Necklaces & Pendants Buyers Guide
---
Necklaces are part of any man or woman's jewelry collection because of their powerful effect on the body and its ability to have multiple looks. There are many different types of necklaces and pendants going from simple and classic to over the top and ornate. Two of the most popular categories are pendants and necklaces. The difference between a necklace and a pendant is that a pendant is generally one piece constructed of metal that hangs from a chain compared to a necklace which is constructed with gold or platinum links set with diamonds or other gemstones either partially or all the way around the neckline.
A pendant is an ornament designed to be suspended from either a chain or cord. A pendant will feature a bail, which is an arched (often oval, teardrop, or d-shaped) metal component used to hang the pendant from the chain or cord. The pendant is usually slid on to the chain so it may move freely without a permanent hold. There are some pendants that are soldered to give it a permanent position. Pendant styles also vary, and can include solitaire, slide, and locket. Choosing the style is not the only component to buying a necklace, you should also consider the length. Below are some of the major necklace and pendant types.
Necklace Sizes
---
When you purchase a pendant, a matching chain will be given in the same metal type as the pendant. In the jewelry industry the standard neckalce length is 18 inches but you will have the option of a 16 or 17 inch chain as well. Other sizes are available but they must be specially ordered. This should be an email sent to contact@usajewels.com. If you are ordering a diamond necklace, it should hit the center of your neckline. The standard length for diamond necklaces is 16" however, the length can be adjusted simply by adding small links to the back end of the necklace. In general there are three main categories for diamond necklace lengths: 16 inches is the 'standard' length, 18 inches is the 'princess' length and 24 inches is 'opera' length.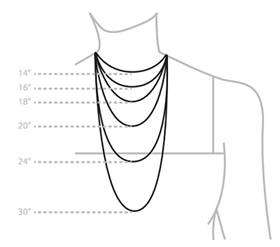 Significant Necklace Styles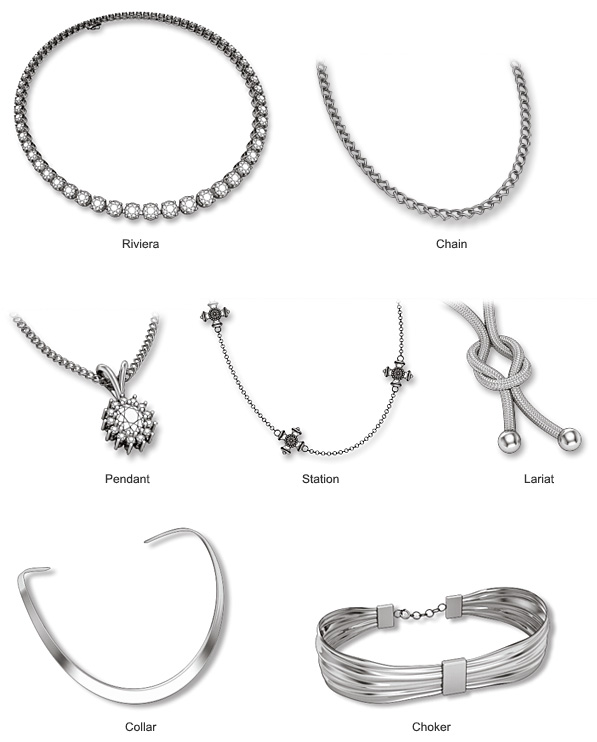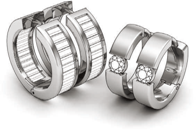 Journey Diamond Pendants
The journey style diamond pendant depicts a very personal symbol for any single individual. It speaks of the individual's life's journey through love or any other matter which required a time commitment. The design has graduated stones in a unique twist or other flowing look. It adds instant shine to any outfit you may decide to wear. One example of a journey pendant is a circular design which represents eternal love and unity. A beaded edge around the pendant will create a classic look for those customers seeking an antique look. If you are interested in buying a jewelry set, diamond journey pendants coordinate brilliantly with a set of diamond journey earrings. A journey pendant is great as an anniversary or graduation gift.
Designer Diamond Pendants
A pendant collection for all the fashionistas out there. Extremely diverse and highly stylish the designer diamond pendants offer many stunning options and is appropriate for any casual or dressy look. It can be set with diamonds or gemstones and in many different metal types. An excellent idea for a personalized gift.
Three Stone Diamond Pendants
As the name implies three stone diamond pendants feature three diamonds or gemstones in a vertical row. The stones are graduated from top to the bottom and they also symbolize a past, present and future in a timeline. If the timeline is about a couple it offers a wonderful alternative to the classic single stone pendant. It is an ideal jewelry set as they coordinate very well with three stone earrings and rings. You can also mix up the pendant by adding gemstones with the diamonds to create an even more stylish look. It is perfect option for people who have reached milestones.
Diamond Necklaces
A diamond necklace is true the statement jewelry piece. The pieces are all generally breathtaking in appeal and carry a beauty that enhances any neck. Diamond Necklaces are mainly built with a gold or platinum setting and offered in various carat weights. Under the Classic Diamond Necklace category, you will find both graduated and non-graduated styles. A popular non-graduated style is known as the 'Riviera'. This style features similar sized diamonds all the way around the necklace. In contrast, a graduated necklace style starts with the largest stone in the center and smaller stones from both sides of the center all around. Fancy categories include the Red Carpet Diamond Necklaces which are sophisticated pieces featuring a double or triple row design and the Fashion Diamond Necklaces which have avant-garde styles. Another popular diamond necklace is called Diamond by Yard. This design is made with diamonds set in a bezel setting 1 inch from each other along the necklace. Generally a pendant's elegance is enhanced with the extra sparkle from the diamonds.
Diamond necklaces can be a great investment so spend the time to figure out whether you want something more 'all occasion' or something more 'special occasion'. If going for less formal, look at a diamond pendant necklace. These pendants come in a variety of styles and price points. If a more formal look is needed, look for a more detailer diamond necklace or a glamorous red carpet necklace or simply stick with a classic diamond strand necklace. These are diamond strands set in shimmery gold or platinum that surrounds the neck. Either way you go, there is no doubt that any onlooker will be left speechless.
Omega Chains
If the customer is unsatisfied with a regular thin snake chain and wants a more classical look, the omega chain is the way to go. The omega chain is much wider than a regular chain so it is ideal for pendants with larger bails and a shorter neck. The omega allows the pendant to set perfectly on the center of the customer's neck without movement. It is a strong and durable chain with much more metal. It is generally much more expensive than a regular metal chain but it has many advantages and has fewer reports of damage. This chain comes in sizes between 16-22 inches.
Bail Styles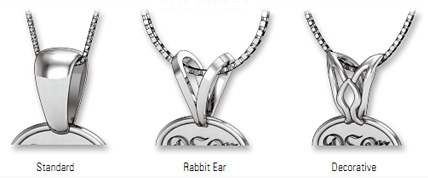 Pendant Styles