Most Recent Testimonials
---
"I have finally found a real jewelry store on the web. Never have I seen an internet store allow you to pick and choose the diamond quality and size. I thought your diamond descriptions really helped me choose the right quality for me. Diamonds have always seem so difficult to buy, especially when you don't have them in front of you. Your upgrade policy really convinced me to make that purchase. Thanks for all your help."
"This is my third time buying from USAJEWELS. I'm on my third diamond earring purchase from them. I have been so impressed with the diamond quality and workmanship that I just continue to buy. Would highly recommend them. If their other stuff is good as what I got I'm sure anyone would be please with them."
"I plan on making all my future purchases with USAJEWELS. I have worked with Dave to help me find a matching diamond pendant to my wife's diamond earrings. He just hit it right, maybe a little luck but somehow he was able to help me out. The customer service and the hand holding was simply all I could expect. Very satisfied customer and highly recommendable."
Customer Correspondence
---
---
Thank you @usajewels it's beautiful! You guys are great. Amazing service. Such a pleasture to deal with you.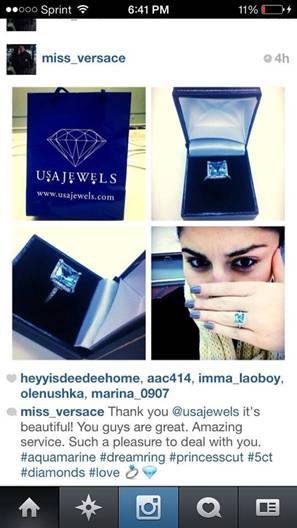 ---