Earrings Buyers Guide
---
Earrings are one of the most essential pieces of jewelry that both man and woman can own. Women have the widest and most diverse selection to choose from which maybe sound like a good thing but may lead to further confusion. There are several different types of earrings ranging from stud earrings, huggie hoop earrings, cluster style earrings, drop earrings, dangle, diamond hoop earrings and chandelier. Each design possesses its own individual qualities and design specifications. Below we break down each major earring design and its most frequent usability.
Note: When purchasing earrings as gift for another person, please think of their lifestyle and style preferences. Take note of their day to day responsibilities and whether that specific design is feasible for them to wear. Try and take note of jewelry they already possess so you may get an idea of a style preference or maybe a matching set!
Earring Styles
---
Stud Earrings
The most classic and most frequently used pair of earrings in the jewelry industry. Stud earrings often give an illusion that the stone is hanging by itself from the earlobe when looking at it from the front. This design is always created on a post which penetrates through the ear directly. The post is usually closed in two major ways. When the post is threaded it's generally held by a screw back. When the post is solid it is held by a push back. If your preference is security especially when purchasing larger sized earring we HIGHLY recommend going with the screw back. It'll make sure expensive earrings don't fall off though it is harder to put on. If ease is more your preference then we recommend going for the push backs. At USA Jewels we let you be your own jeweler and give you the choice of either a screw back or push back.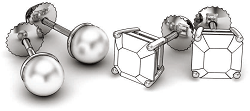 Drop Earrings
Drop earrings as the name suggests have the look to flow from the bottom of the earlobes. A secondary name to the drop earrings is the dangle earrings. They connect to the ear using a post or a hook. The Shepard design is a variation to the hook because it snaps closed unlike the French hook design.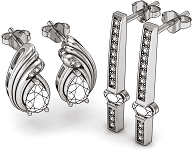 Hoop Earrings
If you are looking for a more fashion and trendy approach to earrings then Hoops are the way to go. The structure of hoop earrings are usually in a round or oval shape which go through the ears using a post similar to studs. It can also be a post which snaps on the back. Both variations are equally secure. Hoop earrings come in many different styles and sizes. There are hoops for classic minded customers to the more contemporary type. For a more casual look a single row hoop is preferred while multiple rows are good for special occasions. USA Jewels has special design called the inside out diamond hoop. It is a versatile and distinctive design that has stones on the outside of the hoop as well as the inside row of the hoop. The point of this design is to give an added sparkle to multiple views. USA Jewels offers many choices for inside out diamond hoops that have both prong and channel setting types. If you are really trying to stand out for a special occasions add a little color to your hoops with the gemstone option. Using both diamonds and gemstones create a sensational look for any ear.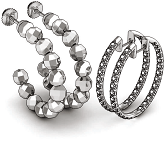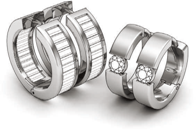 Journey Earrings
Journey jewelry adds a personal touch to your accessories wardrobe and can represent your journey through life and love. Diamond journey earrings add a touch of sophistication to any outfit. Some journey earrings have a graduated style, which means the diamonds graduate in size from top to bottom. Other styles have an antique feel, with the addition of lovely mill grain edging around the diamonds. If you are interested in buying a jewelry set, diamond journey earrings coordinate wonderfully with a diamond journey pendant. Journey jewelry is thought of as a symbol of achieving success in life and love. It is a thoughtful graduation or anniversary gift.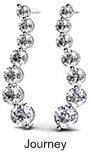 Three-Stone Earrings
These earrings are designed to celebrate the customer's past, present and future. Each stone in the three stone set is made for each part of your life. Three stone earring styles are usually horizontal and features three stones (either diamonds or alternating with gemstones). If you are interested in buying a jewelry set, three stone earrings coordinate fantastically with a three stone pendant necklace. The three stone look is traditionally know to be classic as opposed to the modern hoops. In this design the diamond is graduating in size from the top to the bottom. You can also customize a pair with your favorite gemstone for a vibrant and unique set. Three stone earrings are great milestone gifts ' perfect for an anniversary or birthday.

Ear Trim
An earring style designed to follow the contour of the ear. This earring style can be plain metal in varying shapes and patterns or set with diamonds/gems.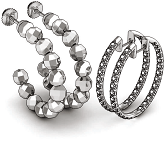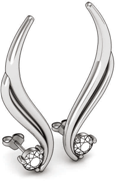 Choosing the Diamond for your Earrings
When you select the pair of earrings you like that contain stones the size is the total carat weight between the two earrings. This is especially important to realize when purchasing diamond studs or single stone earrings. For example if the description of the earrings shows 1 carat total weight then you should know that each earring is .50 carat. For diamonds 1/2 carats and above it is more essential to look for a diamond quality that will balance the clarity and color. As a general rule, the larger the carat size, the better quality you will want to select as any flaws will be more visible to the naked eye as you choose a larger stone size.
Earring Components